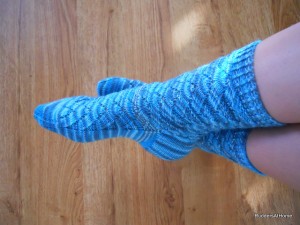 So, I'm in Texas. And what do I think is a good hobby to pick back up now that I'm back? Knitting. Yep, that's right. Knitting. Honestly, I had picked it back up before I moved over, but with the time I've had off here, I've been able to have a bit more fun with it. And I have certainly been having fun.
Just recently, I finished my first fancy pair of socks. By fancy, I mean something that has a pattern on it. Up until this pair I've only been knitting plain vanilla socks, but trying different techniques. This time I tried my hand at something a little fancier, and they turned out pretty nice. I'm very pleased with them! I bought the yarn at a local yarn shop, which I was very happy to find. They just didn't have that sort of thing near my home when I was in England, so it's a pleasure to go to a store and actually handle yarn, and have the possibly of taking a class, which is also on my list. I"m mostly self taught, so there's a lot for me to learn yet. On my next pair of socks I'm going to try cables. I've never done those before, so it should be a good learning experience.
3 Comments »
3 Responses to "Socks. Finished."
Mandy on 29 Mar 2010 at 2:33 am #

That pair IS fancy! Very nice! However, I don't think you will be needing too many pairs of socks in Texas – especially with summer coming! I found during my time in living out that way you go right from "winter" to summer.

Laura | HappyHomemakerUK on 23 Oct 2010 at 10:26 pm #

I am a knitter but never attempted to make socks 😉 So impressive!

sarah on 24 Oct 2010 at 10:45 pm #

Thanks! I'm in the midst of a shawlette – my first lace project. So far so good on that one!
Leave a Reply