One thing I thoroughly enjoyed about the UK was their love of puddings and desserts. Even though I'm usually quite loyal to my US baking roots, the Brits have some really, really good options. From basic custard, to Bakewell tart, on down the line to something as supposedly simple as trifle. I embraced it entirely while I was there, and I miss it dearly (and that's another post!). But one thing that I have been trying to get right as long as I've known Paul, is the Scottish staple of shortbread.
I never really knew what shortbread was until I met Paul.  And after he introduced me to it, I have to say I wasn't impressed. I mean, who wants plain old shortbread when you can have a chocolate chip cookie? Or a chocolate cookie with white chocolate chips, or… To each his own, I suppose.  But, like most things (husbands included) shortbread grows on you. It's the texture – and possible the amount of butter and sugar – involved. And now, I like to make shortbread, not simply because my husband loves shortbread, but also because it's a very simple thing, and when done well, is a very extraordinary thing.  And I've tried recipe after recipe, hoping that I'll find one that he'll turn around and say "This is it. This is the shortbread of my dreams."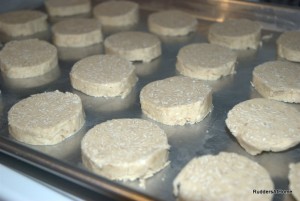 I know this is a fool's errand. I know full well that he'll like (and eat) whatever shortbread I make, even if I've burned it black or turned out raw dough. The perfect shortbread recipe for me, is elusive. But, I can try, and so I must forge on and try even more. I've rarely made the same recipe twice. Most recently the best shortbread recipe I've tried is Delia's, and I've been using it regularly. That is to say, I've made it four times. But this time I've tried something new – Rachel Allen's turn on the classic shortbread recipe. This one has oats in it – and I like oats. This recipe, while it made Paul happy, was pretty much a self-centered exercise. Oats AND shortbread? Who could ask more? I suggested it to him, asking: "You'll like that, won't you, Paul?"
I made it up on a Friday evening – only took about 15 minutes to mix up. I forgot about it on Saturday and after a night or two in the fridge, this was a perfect surprise biscuit for a Sunday afternoon. Oh these? I whipped these up JUST for you! 🙂
200g soft butter
100g icing sugar
1 tsp vanilla
200g flour
1/2 tsp baking powder
100g porridge oats
Beat flour and sugar till light and fluffy, then add in vanilla, flour to form a cookie dough. Mix in oats and roll into a log to cut into cookies. Bake at 350 degrees F until golden – mine took about 20 minutes.
All we need now is some tartan!
3 Comments »
3 Responses to "The Elusive Perfect Shortbread – Oat and Vanilla Shortbread Cookies"
Kim on 06 Jan 2011 at 8:11 pm #

Sarah, must say had a giggle at the thought of Paul saying this is the shortbread of my dreams. Can't imagine him getting that excited about anything unless it's computer or Rangers related xx

Paul on 09 Jan 2011 at 7:27 am #

I do get excited about Shortbread 🙂 We now have the ultimate recipe though so I am looking forward to that.

Still to get rhubarb crumble though….
Leave a Reply