Jul 13th 2008sarahDessert & Food
A week or so ago, I spotted this recipe for pistachio gelato online over at Chocolate & Zucchini. I decided that I wanted to try it after my cherry and chocolate chip ice cream turned out so well. I like pistachios, but I'm not a huge fan. However, the recipe seemed so easy – no eggs – and I've had pistachio ice cream in Italy, which was gorgeous. I was hoping that I could possibly recreate that at home. And I think I did pretty well! Have a look: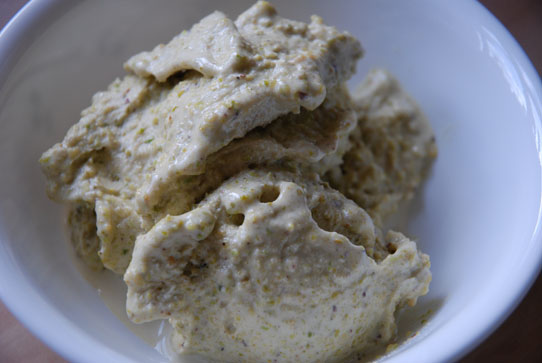 The flash on the camera has washed things out a bit, you can't see how green the ice cream actually is. I was really surprised at how vibrant the color was. But, I didn't have time enough to sort things out and play with the camera – my dessert was melting! I also have to say I thought it was a bit rich, so I wouldn't put that much in a bowl again. Admittedly I was being a bit greedy. 🙂
This recipe was very easy to put together, and it will definitely be something I'll make again. It churned up quite quickly, and has probably been the best ice cream I've made this summer so far.
I seem to be having a bit of a love affair with my ice cream maker this summer. I don't have anything lined up yet for next weekend. I wonder if I'll finally end up doing the strawberry which Paul has been asking for? Or maybe I'll try to find some peaches and make peach, like mom suggested. Or I may just take a weekend off. Who knows?
No Comments »
Leave a Reply