Last weekend, Paul and I took a much needed weekend break. We went to Fort Worth, a place well worth visiting.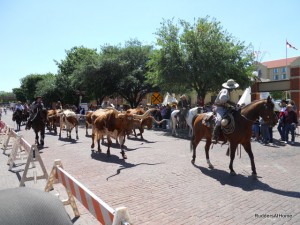 Now, I had been to Fort Worth once before, on a trip to Dallas nearly 10 years ago. I don't remember much about it, apart from Billy Bob's Texas, and meeting a nice young man from Nebraska. He tried to show me how to two-step, and I repaid him by telling him I knew absolutely nothing about Nebraska, except maybe, don't they grow a lot of corn there? Is that why they call you cornhuskers? Years later, I realize I probably wasn't my most charming, but it was a memorable experience, and he laughed, so I think all was forgiven.
Back then, I ddn't really realize there was more to Fort Worth than the Stockyards, which is where we spent our Saturday. We spent the day in the Stockyards, allowing the Scot to gawk all he wanted at the old west feel of that part of town. And there was plenty to look at, because they were having their 10th Annual Frontier Forts Days, which was really interesting. They had loads of people in period costume, doing re-enactments and teaching people about frontier living. It was nice to see, and more of what a person would expect from Texas. I was happy to see it.
We also spent some time in downtown, which had a great feel all of its own and was very walkable. They had some really nice shopping and restaurants. On top of that, the Sundance Square area had a fab night life. It was a nice break from the huge sprawl of Houston and it would have been nice to have been able to stay longer. But we had to return, and now this weekend, we appear to be fighting centipedes. Yuck. They're all over our balcony, and I'm really wishing I were back in the UK where all we had to contend with were huge but harmless spiders.
We didn't visit Billy Bob's on this trip, but I think that was more because Paul was afraid I'd get swept away by some handsome cowboy, rather than his fear that I might make him dance! I think we'll definitely check it out next time, especially since I got myself a nice cowgirl hat for the occasion!