Nov 28th 2010sarahknitting & Life
And I've finished it, hurrah! Here's a picture of it unblocked: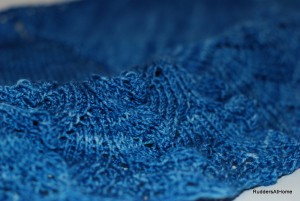 Again, it's not a spectacular photo, but it shows how soft the stitches and the points are in the shawl. I at first didn't think it would turn out at all. I didn't have huge problems, but I did have problems keeping track of the pattern and the stitches. I have to be very diligent in keeping track of how many I have on the needles and in the pattern, otherwise I get carried away and lose track of everything. Considering this is my first finished lace item, I'm quite proud of it. I'm sure a more experienced knitter will be able to see where I made mistakes, but I can't. And as they say, ignorance is bliss. Especially in this case. Although, admittedly, I'd like an experienced knitter to sit down with me on it and show me my mistakes. I'd learn a little something.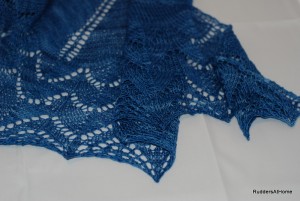 Here is it finished and blocked – my Travelling Woman shawl in blue. I love it, and I'm really very tickled with it. I blocked it over Thanksgiving weekend, posting a picture to my moblog. Very rubbishy picture, I must say. It didn't do the shawl or the color any justice at all. As you can see in these pictures, the color is very pretty and vibrant, with just a bit of color variation.
This was a good pattern for me. Knitting is much more challenging for me that crochet is, and I've been wanting to try something other than socks. Socks are great, but I really wanted to do something prettier and little less practical. This shawl fit the bill. Plus I had to concentrate a bit more on it and I wanted to see if I could do that. And guess what – I could! I found it a bit more in depth – trying to keep track of the pattern and increases and decreases – but this was a perfect starter for me. Seeing it blocked, I feel much more confident in my knitting ability.
 I like to think that now I'll graduate now onto something more wonderful and flamboyant. There are so many pretty patterns to choose from, and so much yarn that is both soft and colorful. I'm just not sure what I'll do next.