Apr 19th 2009sarahPhotos & Scotland
So, Paul and I went to the Borders for an Easter break this year. We weren't counting on good weather at all, being April in Scotland, so we were pleasantly surprised when we had full on sunshine for the weekend.
We had two options at our disposal, take full advantage of being in Scotland and find a good pub, or take advantage of being in Scotland and do some outdoor activity. So, we decided to go on the Three Brethren Walk, a walk up a big hill with three cairns at the top. And boy was it something.
Here's the view down the first hill in the walk that we went up. This was a wooded area and there was a stream running along side this road. Once at the top of the hill, the scenery changed slightly.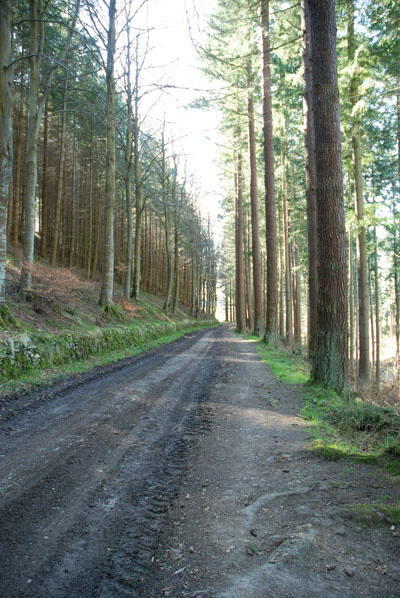 The hill leveled off and there was a nice bit of flat space to walk down, with a nice stone wall along side it. The landscape opened up here as well, and the ground gradually sloped upwards.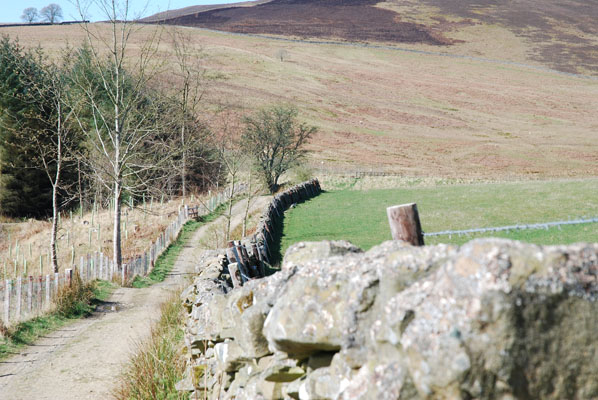 And another scenic picture of the heather and the inclined walk. Not to mention the sheep. There were sheep all over the place, and I can't tell you how many pictures of sheep I have. But there were lambs everywhere as well, so I think the excessive photo taking was justified. The landscape here just continued in a similar way, with more and more heather (the dark bit on the hill in the distance). And the path became increasingly rougher and steeper.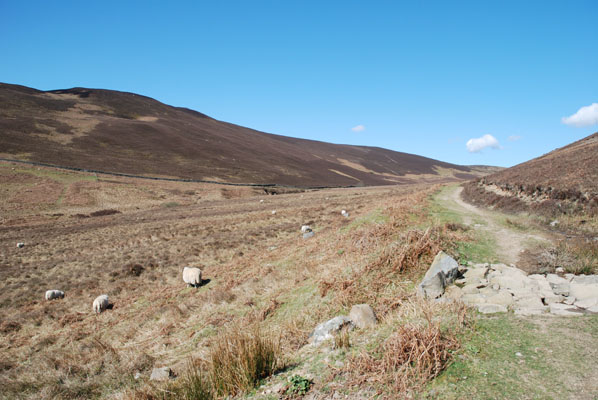 And after the last arduous bit of the walk, we were greeted by the three brethren (cairns) at the top of the hill and a glorious blue sky. Once up there, we took a break and had a look around and enjoyed the view.
And what a view it was, too.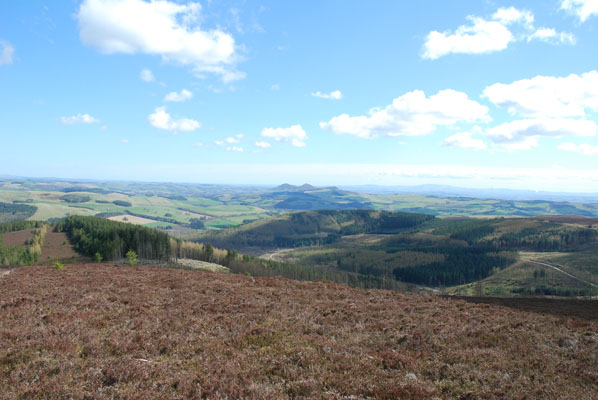 Overall, it took us about 3 – 4 hours (we didn't time it precisely!) and the walk was around 9 miles long. What a great walk, apart from the wet foot. But that's a story for another day.
2 Comments »
2 Responses to "Three Brethren Walk"
Becky on 19 Apr 2009 at 2:44 pm #

And now I know what a cairn looks like.

Those bluebells looked really spectacular though, I hope you get the opportunity to share a few more photos like those with us.

So many sheep! | Rudders at Home on 23 Apr 2009 at 12:33 am #

[…] The Adventures of Sarah and Paul « Three Brethren Walk […]
Leave a Reply