Aug 25th 2008sarahKilt Project & Scotland
Following on from my introduction to my kilt project, I thought I would highlight the first purchase in this project, the sgian dubh. So, have a look below at Paul's sgian dubh.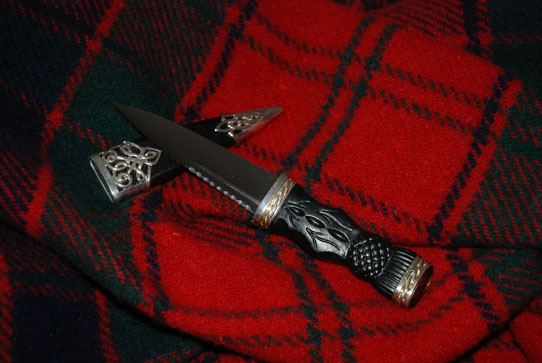 The purchase of this sgian dubh (pronounce it like "skeen doo") was my introduction into kilt wear. I bought it as a wedding gift to Paul, with advice from my mother-in-law. I didn't know anything about what I was doing at the time, so I picked what I thought looked good.
This particular sgian dubh wasn't outrageously expensive but it is a serious knife. It's got quite a sharp edge and the whole knife is about 6 or 7 inches long. Sources say that the word "sgian" means knife or dagger, and that the word "dubh" means black, which generally refers to the color of the handle, even though you can get sgian dubhs which are made from wood or horn. It's worn tucked into the top of the kilt hose, normally on the right leg. The purpose for wearing it is only ceremonial and for decoration mainly. In the UK you aren't allowed to carry weapons of any sort, but an exception is made for when traditional Scottish dress is being worn.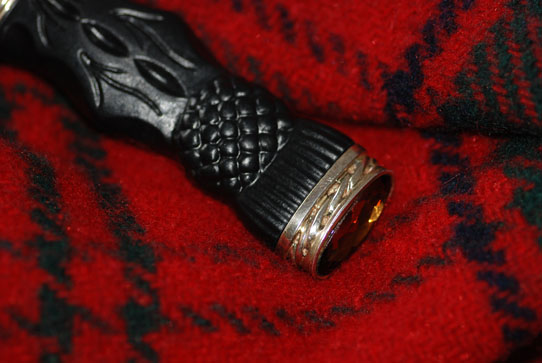 These knives can be quite elaborate, and I think this one falls on the modest side. You can see the Scottish thistle on the handle, with a piece of topaz glass inlaid at the top, and Gaelic design in silver on the scabbard. Considering the scabbard is hidden withing the hose, I think it's really the handle that you want to concentrate on for design and embellishments.
1 Comment »
One Response to "The Kilt Project: Sgian Dubh"
The Kilt Project: Belt Buckle | Rudders at Home on 23 Aug 2009 at 8:32 pm #

[…] You can't see it here, but the belt also has a Scottish thistle design, and Paul's sgian dbhu also has the shape of a thistle on the […]
Leave a Reply