Soon after I finished off my travelling woman shawl, I started on another project. A pretty little shawl by the name of Multnomah.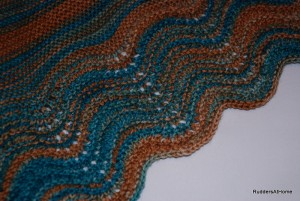 I had tried to make this before I attempted the travelling woman pattern, but I just couldn't work it out. I'm not sure what the problem was. I was using a lovely yarn in a very pretty orangey rusty color, but for some reason I just couldn't get it to work. I missed a row, and a few increases, and by the time I had made it to the lace pattern repeat, I was way off count. I was struggling, and I couldn't figure out why. I messed around with a few things and I forced the lace repeat to work, but then I purled at a point where I should have knit, and things just went completely pear shaped. So, I gave it up. I tore it out. Frogged it, as they say. I thought: this pattern just isn't for me.
However, when the travelling woman was done, and I looked around at the yarn I had set aside for my next project, I couldn't resist trying again. The Multnomah seems to me to give a pretty sturdy impression, especially compared to the travelling woman. The yarn that I have also seems to be of pretty sturdy stuff. So I thought I would try again. I mean, I wouldn't learn anything unless I continued to try, right? Besides, so many people are out there are making this pattern work for them, surely I could make it work for me too?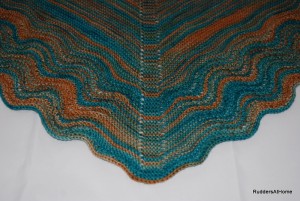 I enjoyed knitting this pattern in the end, but the yarn is really what spoke to me here. I had originally thought I would make some socks with it, but I'm glad I haven't.  I wasn't sure how the colors and the color changes would look in a sock, and I thought perhaps the colors might get a bit lost all merged together. I love how the turquoise and tawny gold colors play together and it would be a shame to lose this by squashing it down into a sock pattern. And besides, I love the colors so much I want to be able to wear them someplace where they can be seen and be appreciated. This is what led me back to the multnomah pattern – I thought that this shawl might show this off. And I was right, at least in my opinion.
The pattern is Hello Knitty's Multnomah, and the yarn is Blue Heron Sock Plus in Forest.